Yoshitaka Amano, LUNA SEA…
A MMORPG featuring world-class creators
'Eternal Kingdom Battle Peak'
To be released in the summer of 2022!
Pre-registration is now open
Asobimo, Inc. announces the release of the new multi-platform (PC/PS5®/PS4®/Android/ iOS) MMORPG "Eternal Kingdom Battle Peak" in the summer of 2022.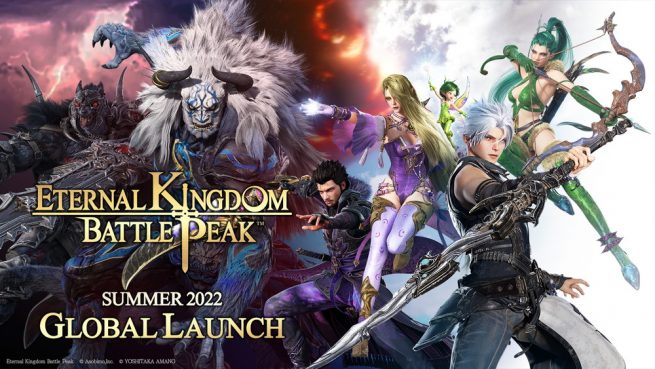 The game features world-renowned creators such as Yoshitaka Amano for character design, LUNA SEA for the theme song, and MONACA for the in-game soundtrack. You can enjoy an epic storyline with characters accurately recreated in 3D from Yoshitaka Amano's designs, as well as adventures in a vast field where the weather changes from day to night. The game also offers a full range of battle content, including "Siege" where up to 200 players battle, "Arena" where you battle with a small number of players, and "Battlefield" where up to 30 players can fight in fierce battles.
In preparation for the release, pre-registration is now available via Steam, Google Play, App Store, Twitter, and email. In addition, a pre-registration campaign will be held to obtain an avatar costume set and a pet "Ghoul," as well as a RT campaign to give away Visa Prepaid Cards worth up to $70 in total, and a Twitter point campaign to get avatars.
【Pre-registration Site】https://www.p-eternal.jp/en/regist/